Happy New Year! We are 3 days into the new year and you can feel the excitement of the potential of what is to come! I left my little blog back in November :( so I have much to catch up on. I can't just skip right to where we are now!!
Last year (had to do it :) Jared and Andon were training to run their first race. They worked hard and were ready to run the Turkey Trot on Thanksgiving morning. It really is such a fun way to start Thanksgiving Day! Well, the day before the race, Jared was unloading the dishwasher and literally fell to the floor! I was just standing there asking if there was something I should or could do!?! He threw out his back!! He laid there until he could manage to move to the couch and that is where he pretty much stayed all day. He kept saying I still might be able to run but by evening time it was obvious he wasn't going to be able to. He called Andon in and said he wasn't gonna be able to run so Mommy would have to run it with him. Andon's reply... "ok." Not the brokenhearted answer we were both looking for. :) No big, he's 8 and was just ready to run baby. With or without either one of us!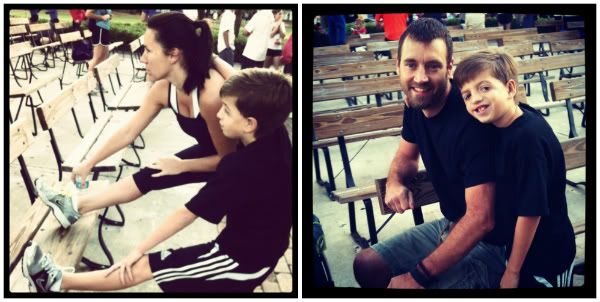 These pics are from before the race. We were very serious about stretching out and thankfully Jared was able to come and watch along with Adelyn and Papa.
These are all iphone pics - insert New Year's resolution - use my darn camera's more! I have two great Nikon cameras and this year I am gonna learn all that I can about them and start using them. It's just been so easy to whip out my phone and take pics (especially since Instragram, i LOVE it) but I am really gonna start to take more and better photos this year! :)
After we stretched out and said goodbye, Andon and I headed to the start line. It was such a precious time standing there with my son waiting to run a race together. He seemed a little nervous but i'm pretty sure he was just ready to get this whole thing done because all of his cousins were coming to the house for Thanksgiving dinner.
Once the gun shot we slowly started to move. After about 3-4 minutes we got going on our pace. We talked the whole time about breathing, staying focused, some of the crazy people wearing turkey costumes (among other things) where Daddy and Adelyn were going to be when we were done and lots more. I was beaming with joy running with my boy. He is the most precious little guy. He has changed our lives in so many ways and we are continually thankful for the gift God has given us in Andon.
Just after we passed the 2 and 1/2 mile mark we were both pumped. Ready to see the finish line! Once it was in site I was looking everywhere for Jared and sure enough right before we crossed at 36 minutes and 4 seconds there they were. Screaming "GO ANDON, GOOOOO!!" As we crossed the finish line Andon screams out "I was born this way!" Trust me it was all very exciting and kind of emotional at the same time. Andon then looked and me and said "Daddy is so proud of me" and he was. When we got to him the tears were running down his face. Jared was beyond proud of the accomplishment for Andon and Andon had a permanent smile the whole way home.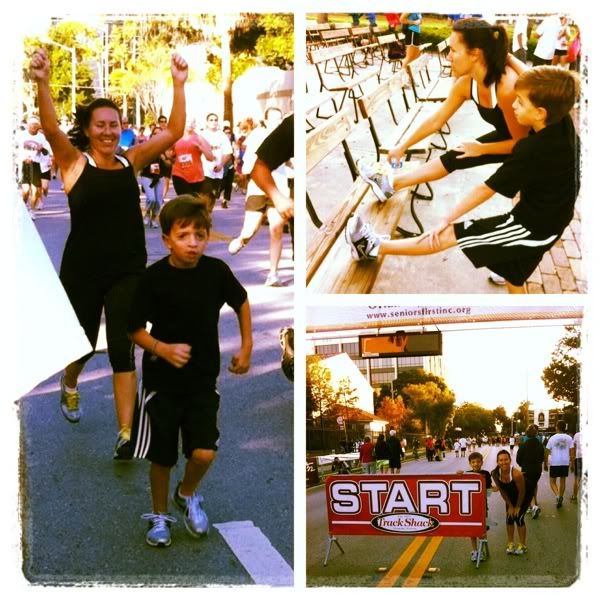 Once we got home and showered all of our guests started arriving. Thankfully my father in law and I did most of the prep work the night before because there was still much to be done. This was only my 3rd time holding a dinner for that many people (we had 17 this year!) Whew!!
And that's it for Thanksgiving pics because Mama was in the kitchen ALL day! But loving every minute of it. :)
Next up - Christmas 2010!!