Last weekend our little family headed to the beach for the day. The kids and I have actually gone quite a few times this year already with our friends. But it's so nice to be able to go with Daddy. And not just because he can help haul all that stuff down there!
He loves to play in the water with the kids and make sand castles and buy ice cream from the ice cream truck that drives by with the obnoxious music. I never buy it but Daddy, he always buys it.
There is always a moment for me while sitting there listening to the ocean, feeling the breeze and just relaxing in the sun that I think... this is perfect. I love going to the beach and lucky for me so do my kids. They aren't the ones who don't want to get in the water (except this last weekend when I thought I felt something on my foot and started freaking out and Andon was watching me the whole time and starts running like a wild banchee out of the water. :)) But we recovered when I told him that I think it was some shell or something. Really, i'll never know what it was but it was weird feeling.
I never really like to take my camera to the beach because I don't want to get sand in it but I decided to take it with us this time.
I can only get pictures of the back of her because once she sees the water, she's gone!
And he lives for boogie boarding now. He will do it the whole time we're there. Come home with a rash all over his belly from the board and the salt water.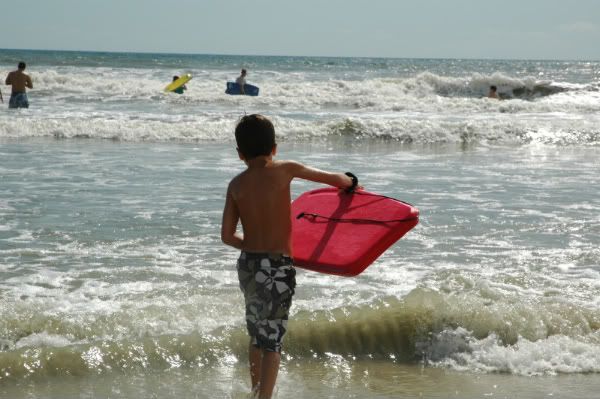 Playing with daddy in the water.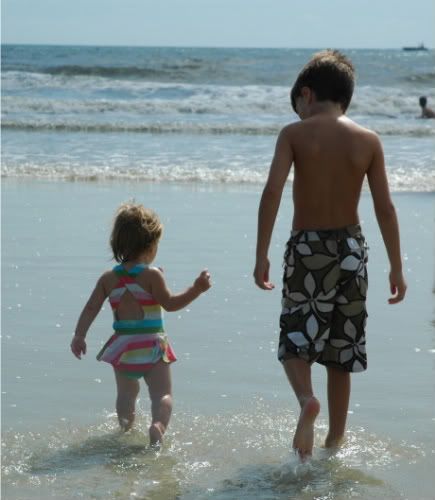 And just for fun here are a couple pics from our beach trip last year on Memorial Day.
What a difference a year makes!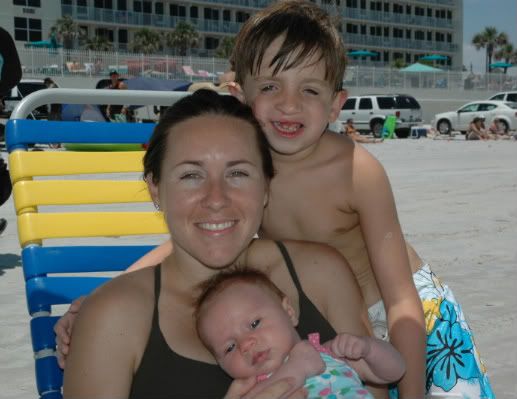 We are getting into the swing of summer around here. Since we homeschool we don't take the full summer off but we do chill out on the daily grind of keeping to the schedule and getting our work done. Let's just say we're pretty relaxed about it during the summer and it feels so nice!